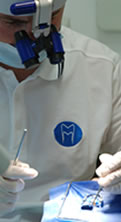 The conservative dentistry deals with the carious teeth care, with the procedures for removing the caries and with the procedure for closing the cavities which form after the removal of the email and the carious dentine by using specific materials.
The Mezzera dental clinic uses latest generation materials which allow the reconstruction of the carious tooth.
Thanks to the new adhesive techniques the quantity of the dental material which needs to be removed is considerably reduced.
Our dental clinic pays special attention to the aesthetics and makes reconstructions more and more invisible.
---
---

Download protocols