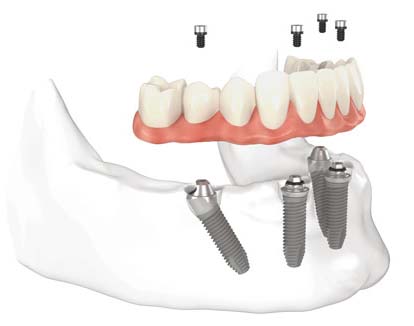 The notion of all-on-4 treatment has been developed to supply edentuluous patients with an efficient denture with just four implants to support a complete arch denture with immediate loading.
* A convenient solution
The all-on-4 implantology replaces the missing teeth with a complete denture, which is supported by just four implants for each arch.
The costs are quite low because less implants are needed.
---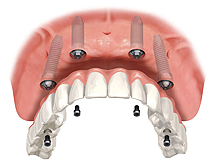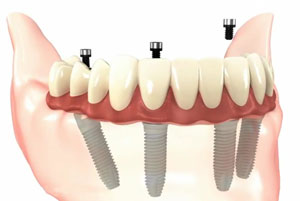 ---
* Less bone grafts
The unique all-on-4 implantology solution ensures also a better bone stability.
The particular inclination of two of the four implants ensures the stable and safe anchorage of the substitute arch and generally makes the bone graft unnecessary.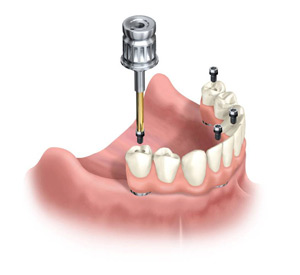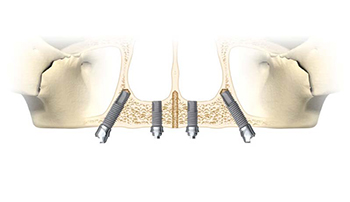 ---
* Less treatment time and less healing time
The treatment takes less time because less implants are needed. The patient does not have to wait until the healing time between the all-on-4 implantology treatment and the denture positioning is over.
We can position the denture at the same day after the operation.
Thanks to the temporary denture, which looks like the natural teeth, you can have your everyday life right after the operation.
After a few weeks' time we position the permanent denture.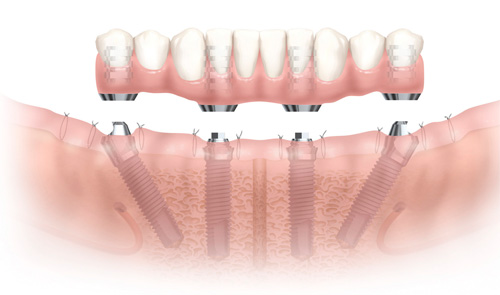 ---
*Scientifically proved and documented
Some surveys about positioning four implants to support a substitute complete arch have shown that the all-on-4 implantology has achieved positive clinic results.
In the clinic praxis we have been using inclined implants with excellent results for over ten years.
The quality of your life will considerably improve. Your masticatory functions will be restored and you will be able to enjoy your favourite food again.